FIGHTING PAY DISCRIMINATION TO ESTABLISH EQUAL PAY FOR EQUAL WORK
Pay discrimination is a persistent problem for women in the workforce. Recent research shows that women continue to be paid 79% of what men are paid. Even when accounting for factors like occupation, location, college major, and age, the gender pay gap persists. For women of color, the pay gap is even larger.
Pay Discrimination Is Illegal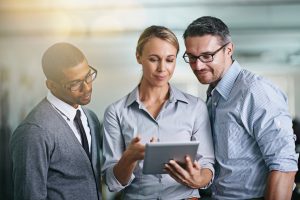 Of course, paying women less than men because of their gender is unlawful under both the Equal Pay Act (EPA) and Title VII of the Civil Rights Act. The EPA requires employees of the opposite sex who are performing the same job in the same location to be paid the same wage.
There are exceptions to this rule: pay rates may lawfully differ for employees of the opposite sex when the difference is due to a seniority system, a merit system, based on quantity or quality of production, or any other "factor other than sex."
Recent Gender Discrimination Lawsuits Shine A Light on Unequal Pay
Earlier this year, Farmer's Insurance settled a $4 million case filed on behalf of its female attorneys, who discovered that they were being paid less than male colleagues working in the same jobs. In addition to backpay under the settlement, Farmer's Insurance agreed to additional reforms, such as increasing the number of women in higher salary grades and to give progress reports on the pay gap for the three years after the settlement. Tech company Qualcomm recently reached a settlement of $19.5 million with a class of over 3,000 female employees alleging they were paid less than their male counterparts.
New Efforts to Fight Gender-Based Pay Discrimination
As part of its mission to stop unlawful discrimination in employment, the Equal Employment Opportunities Commission (EEOC) collects information from private employers with more than 100 employees each year. These employers are currently required to provide information about their employees by job category and ethnicity, race, and gender. Under new rules, employers will also have to identify the salary and hours worked for each employee. This will assist the EEOC in identifying pay discrimination and helping employers assess their pay policies and practices.
Some states have also stepped up their efforts to quash pay discrimination. Massachusetts just passed an equal pay act that requires men and women who do "comparable" work to be paid the same wage – not just employees performing the exact same work. It also prohibits employers from asking prospective hires about their salary history, a practice that has disadvantaged female job-seekers. California's new fair pay law requires pay equity for employees in "substantially similar" positions. Wisconsin became one of five states that does not have an equal pay act in 2012, when the state's Equal Pay Enforcement Act was repealed. Many Wisconsin employees are still covered by federal non-discrimination laws.
If you are concerned that your employer is not providing equal pay for equal work, please contact the attorneys at Hawks Quindel, (608) 257-0040 for a free evaluation of your case.
Latest posts by Hawks Quindel, S.C.
(see all)